(from the accidentally unassisted homebirth of Ava, to the 90-minute
whirlwind birth of the close to 10 pounds at birth Isa)

Almost 2 years ago, I sat down one early morning with my very pregnant tummy and wrote down the birth stories of our children.

I've always loved birth stories, and remember my mom asking to tell ours all the time. There's something magical about snuggling up to your mom and having her narrate the story of how you came into this earthly experience.

As I write this post, I want to take a moment to acknowledge those of you who can't have or choose not to have children.

For the foster parents among you, I bow at your feet – you are redefining and reclaiming the very nature of being an elder.
For the people who choose not to have children of their own – I love and deeply respect you, we all have different gifts and choosing a life without children of your own, doesn't make you less.
For the transparents among you – thank you for reminding us that love doesn't have a face, it has many.
For those of you who struggle with infertility – I'm so sorry you're going through this, I'm here for you, and I'm keeping you in mind on Mother's/Father's day.
Whatever being an elder to children looks like for you, I'm grateful to my fellow humans caring for, inspiring, educating and laughing with the next generation.


*******
Birthing our children, at home, with midwives, was a deeply spiritual experience for me, and absolutely shaped me in how I lead our company. So… if you want to get to know me a bit better (and love a birthing story), here you go, love…


[written days before Isa's birth, our third child]


It's Sunday morning here when I'm writing this, 4:43 AM, and our baby is still inside my tummy.

And as I'm waiting and reflecting…
… I thought I'd simply share some of my other birth experiences with you:
Our oldest daughter, Ava, was born almost 5 years ago.
And it turned into an accidental, unassisted home-birth.
The experience of birthing a child without a midwife, and only my husband there to catch the baby, was such a profound initiation into my own power that 8 weeks later I started my business.
Ava was born on a stormy day late in March.
It snowed.
It hailed.
It rained.
The wind blew fiercely.
Dark clouds rolled by.
Bright sunshine.
She was brought in by the storm.
My husband went out that morning to go to the farmers' market.
We lived in Germany at that time.
He went to our flower guy, and he showed Keith a bundle of pink tulips he thought he should buy.
When Keith came home, he said, "I got a sign, it's a girl!"
I was in mild labour at that point, at 41 weeks + 4.
Keith tried to feed me a meal (he's always trying to feed me a meal, lol), but I couldn't and gagged. That's when we knew for sure that our baby was coming.
We called the midwife, who didn't actually show up yet for a few hours.
But we didn't need her.
As a trained classical singer, I very easily slipped into using my voice to navigate the contractions.
I had no shame in being loud.
Especially after my friend Sandra's experience a few weeks earlier:
Her birth lasted over 30+ hours because she felt uncomfortable making noise.
I remember I didn't want to eat.
Or drink.
Nor have music on.
I lit a candle.
And the pink tulips looked beautiful.
I've never been one to try and soften the birth experience.
When the time comes…
I prepare myself for battle.
I fully accept and sink into the fact that this is going to hurt.
Like hell.
I bravely navigate this wild, untamable landscape.
I reach a point where I think I can go no longer.
I lean on my loved one.
I rest between the pointy rocks, and feel the void.
The rawness of life.
Of death.
And then…
I see the Spirit Door.
I get up, and push through.
I summon our child.
And together we make the journey back.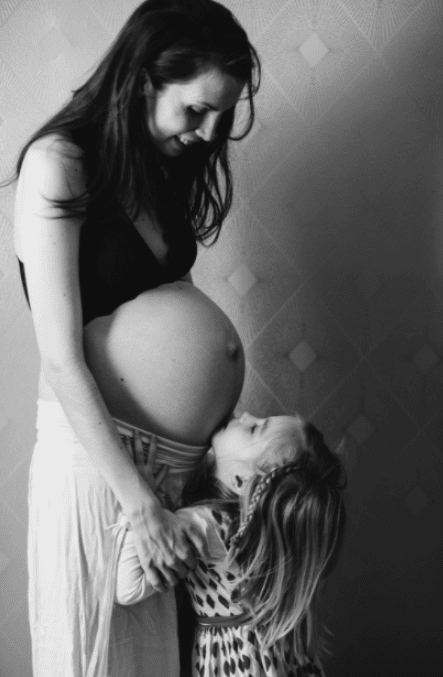 Photo by Chelsea Klette
During my last two births, that's when I push once or twice with uncontrolled force, and tear myself as the baby flushes out (my water doesn't break until the baby enters the world).
I've instructed my Canadian midwife team to "go hockey team" on me:
Look me in the face, and yell: "DO NOT PUSH".
When I entered the final stage of Ava's birth, the midwife was in our kitchen making some emergency phone calls.
Keith and I and Ava were alone in the room.
I felt the energy shift.
I had a vision of a wild, wild country: grassland, where glaciers once performed their slow dance… the Rocky mountains in the distance
I felt as if I was riding a combination of a bear and a lion:
Push contractions.
Between these strong waves, I remember giggling and saying to Keith: I don't know what the fuck is happening inside my body, but I feel so strong.
And then it happened
I lifted up slightly from the wool I was crouched on (all fours).
And in that motion, Ava's head slipped out.
This is where it gets hilarious.
I turned around and said to Keith:
"Keith, the head is out!"
And Keith answers: "What do you mean?!"
("What do you mean what do you mean?", would've been the perfect reply here).
He reached out his hand and with one smooth motion….
Ava slipped onto his lower arm.
It was happening behind me, but Keith tells me she spat once to the left, once to the right, and looked him straight into the face: "hello, here I am".
I wish I could say I'd stayed calm.
But in reality, I yelled for our midwife in fear and she came running in.
And in her shock she forgot to honor our requests.
She turned on the bright light.
Quickly severed the umbilical cord, quickly checked Ava and sewed me up (without the proper anesthetics I might add – Keith still gets sweaty when he thinks about it).
… And it's all good.

I think what has always helped me, birthing babies, and in business, is that I don't have the expectation that it's going to be a smooth ride at all times.
I expect to go through writhing pain in the next few days – and that's OK.

I expect to find myself crying in the shower at 3 pm because my boobs hurt so much – and that's OK.

I expect to feel lonely sometimes – and that's OK.
I expect to feel like I can't get up one more time – and that's OK.
So many of us are scared of being pushed to the edge.
The insanity of losing sight of our daily reality… drifting away into the unknown.
It's dark there.
And quiet.
And you can hear your own breathing.
As you stretch out your hands and try to feel for something you recognize.
And it's there, that we get to know new parts of ourselves.
On the edge, we're given a different view.
A view that will inevitably change how we know ourselves.
It's RICH.
And whether you access that landscape through bringing new life into the world, or another initiation of a completely different kind…
… go there.
And experience the real fabric of your marvelous existence and experience as a Spirit wrapped in human form.
P.S. A huge thank you to Chelsea Klette Photography for creating a beautiful experience and lasting memories for our family during this photoshoot.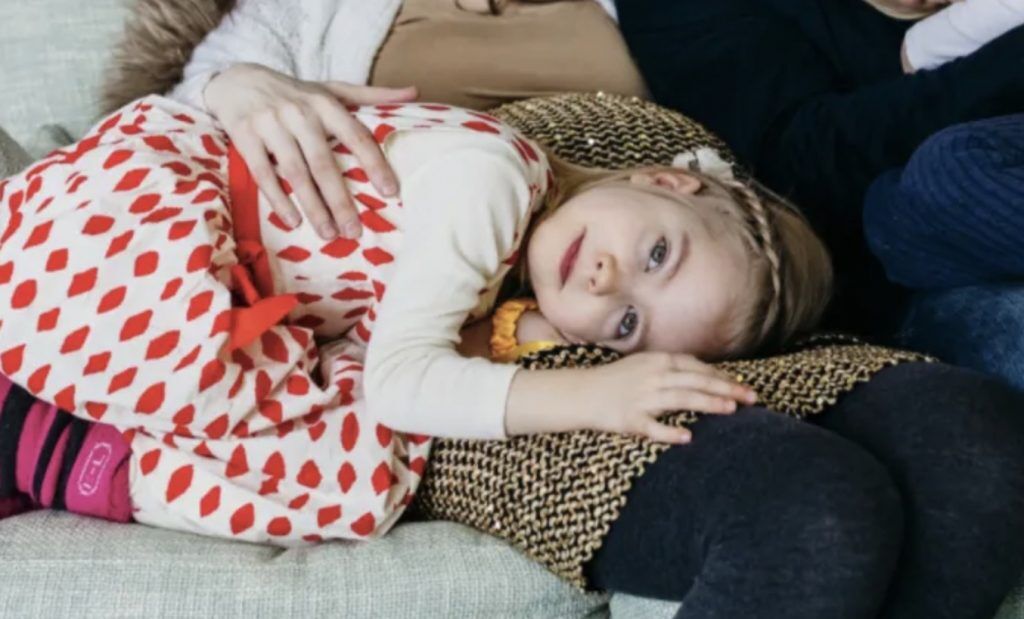 Uma's Birth Story
Yesterday I shared with you the birth story of my oldest daughter, Ava.
Today, I'll share Uma's.
Uma was born only 18 months after Ava.
Now, I've experienced the Spirit of my babies telling me it's time for conception:
"Hurry up, Mom and Dad, we want to grow up together!"
They're a real pair.
On the day Uma was born, it was a cloudy but mild November day in Germany.
We went out to do groceries together.
Walked through town.
Did our routine.
Cooked dinner.
Played.
Put Ava to bed.
And the moment I put Ava down and turned on the nightlight, Uma decided she wanted to be born.
In other words, I was fucking toast.
I'd been on my feet all day.
Caring.
Giving.
And at 9 pm after a long, long day… the birth started.
I lit candles in our bedroom (yep, our second home birth, WITH a new midwife!).
And put on white clothes that made me feel beautiful.
I called the midwife, and she came within the hour.
Contractions grew stronger.
But when the midwife checked me, I was only 4 centimeters dilated.
And I felt disappointed (I'd worked so hard already).
The journey continued for another hour.
Until I reached a definite point of "I can't anymore, what do we do?".
Our midwife said with a smile, "you rest!".
And so…
Mid-birth, with strong contractions… She helped me lay down on our bed.
Keith snuggled up to me.
And we rested for about an hour to 90-minutes (and no, I wasn't smiling like in the picture below, lol)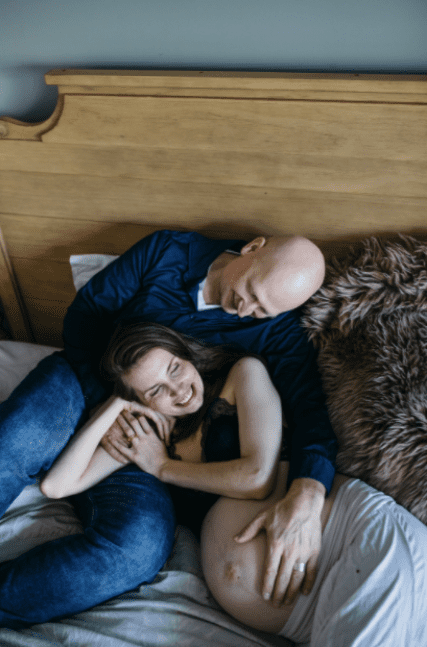 photo by Chelsea Klette

Contractions slowed to about one every 10 minutes and although painful, were manageable.
It was deep in the night now.
Miraculous quietude.
I only heard Keith's deep breathing in his sleep.
And felt my body contracting, and releasing over and over again.
But through the kind haze of sleep.
And then, I felt ready to face the breakers.
I rose, and instantly we entered a wild stream of fierce, pounding-every-couple-of-minute contractions that lashed through my body.
I laboured for about an hour.
And the power coursing through my body with each contraction was so violent, I threw up (the third time in my entire life, I'm not a thrower-upper), and my body SHAKED.
From one moment to the next, I needed to pee.
Or so I thought…
… and we walked to our little bathroom.
On the toilet, I had my first push contraction.
We basically ran back to the bedroom (knowing my history)… and the midwife helped me find a position, squatting down on a bunch of wool, leaning against the bed.
I pushed once.
And Uma flushed out with her water.
She
Was
So
Tiny.
Her older sister (still asleep in the other room) had been over 4 kilos at birth.
Uma wasn't even 3 kilos (2900 grams).
Her legs were as thick/thin as Keith's thumbs.
And she looked at us with deep, deep wrinkles in her forehead.
She didn't cry.
Just a deep witnessing with her dark seal-eyes.
I thought to myself: "She's so small and weak, she might have trouble latching".
I put her on the breast.
And little Uma (who we named Uma Mirabel) LATCHED LIKE A PIRANHA.
She literally shocked me and the entire birth team!
And she hasn't stopped eating since (she eats at least as much as her older sister).
Why name her Uma?
Because I'd been binge-watching Kill Bill the weeks before the birth.
And decided I'd name her after Uma Thurman :-)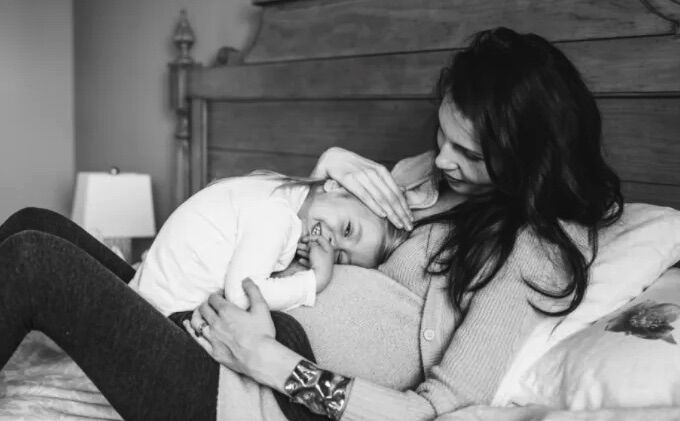 photo by Chelsea Klette

So many women have asked me over the last few months:

"But how are you going to run your business with a new baby?!"

Here's the thing –
I've never really run my business without either being pregnant, birthing or nursing.
I don't know what that's even like!
But here's what I do know:
With
Every
Baby
Our
Abundance
Grows
That, combined with my deep knowing that having things look like they're falling apart a little is actually wildly exciting, and an opportunity for Better to make its magnificent entry…
… I'm good.
Also, unlike with the other two… I have a support team now.
An assistant
A project manager
A CFO
A sales team member
A designer
A Tech VA
We're onboarding someone to support me with social media
A teacher/caretaker for our girls during the day
A housekeeper
A handyman
This list can literally go on and on.
They might say it takes a village to raise a child.
I also believe it takes a village to support a mom who runs a business.
I hope that by the time my assistant sends out this email…
… I'm in labour or we're already holding our baby in our arms (help us envision it!).
I'm excited.
Nervous.
Feeling painfully vulnerable.
And strong AF at the same time.
Yes, these days are magical for our family.
And I'm so grateful I get to share a little bit of that with you.

P.S. Again, a huge thank you to Chelsea Klette Photography for creating a beautiful experience and lasting memories for our family during this photoshoot.
Isa's Birth Story
Say hello to Isa Anaïs!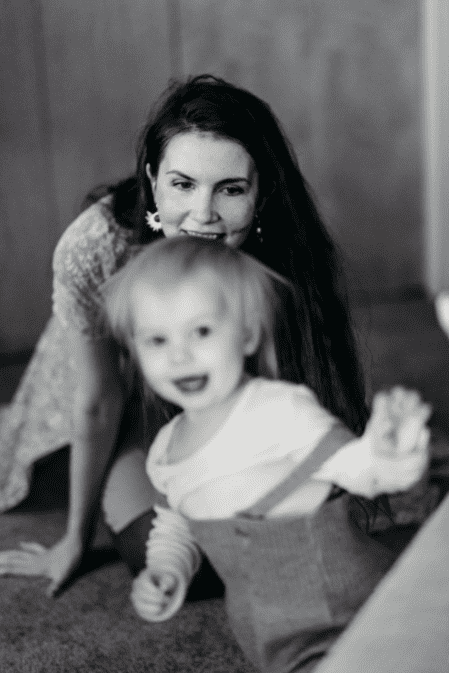 photo by Chelsea Klette

Born on Valentine's Day (at 23:33) in a 90-minute, whirlwind birth.
The first baby to be born on our homestead in 86 years (Keith's dad was the last one).
Weighing no less than 9 pounds, 8 ounces.
And no, I didn't tear (how Vagina? HOW?!).
So, let me tell you about last Friday… 😊
I woke up at 5:45 am as usual (no bro-marketers "rules to live by" thing, I'm simply an early bird as I should be, because my name means "Blackbird" in Dutch).
Got the kids ready.
Got myself ready.
Drove to town (meaning: had Keith drive us, I don't have my licence LOL)
Had a biophysical profile at the hospital where they have a look at the baby to see if it's doing well. Everything was perfectly fine.
Oh wait…
So perfectly fine, maybe the kid has diabetes?!
Seriously, medical establishment, are you fucking kidding me???… (sigh).
Drove home.
Midwife calls – concerned – basically saying: "The doctor called me. It's either a home birth now, or we don't feel comfortable with the baby being so big and with the increased risk of diabetes/potential shoulder obstruction/postpartum hemorrhaging/etc., we'd rather transfer care to the hospital".
I GUESS I'M ON.
That's when I decided (after a good cry) that yes, I'd take what's called the "Verbena Cocktail".
No alcohol in this one.
But nonetheless… a powerful brew involving Verbena drops (contraction inducing), and copious amounts of castor oil.
Why?
Because we wanted the home birth.
Period.

I gobbled down 2 big glasses of the Verbena Cocktail (which tasted surprisingly yummy – must have been the mango juice) and locked myself up in the bedroom to watch part two of The Godfather (watched Hymen Roth get off-ed – don't judge me) while Keith got the girls to bed.
And then the contractions started.
About an hour of gentle waves.
And then a merciless plunge into the ravenous void.
Because I'd skipped my nap to go to the hospital (and, granted… have a cupper and go shopping with Keith, buying a PINK COTTON DRESS which I wore during the birth later that day #teampink #weknewit) and was fairly exhausted…
… I went into a state of slow brain waves, entering a different realm.
No more veil.
No more divide between this reality and the rest of the cosmos.
I'm in the dark.
I'm in space.
And the contractions are so intense I physically feel my body opening up wide with every spike and I feel as if I'm surrounded by high-voltage electricity, literally like this…
I feel I can't do it alone.
So overwhelmed.
I ask Keith to hold me and remind me to breathe.
Not by saying it.
But by holding me.
Breathing with me.
Anchoring me in a pain that's washing my body and soul clean.
In-between contractions, I say things like…
"I wish I hated this less"
"I'm afraid I can't do this Keith, what if I can't do this?!"
*grunting, and said between clenched teeth*:
I KNOW I CAN DO THIS.

I'M STRONG.

I CAN DO THIS.
And Keith, echoing… yes you can, love.
Admittedly…
I also said things like (Keith, my sincere and official apologies) …

> "You dumb fool, you're like sitting on the baby!"
(when he carefully perched himself on the bed next to me to page the midwife)

> "Oh, just shut the fuck up"
(when asking me something practical, when he thought my contraction had eased, and it hadn't yet)

> "Move your fucking hand right now"
(when accidentally putting his hand on mine while I was squatting mid-contraction)

Yep, I felt I could be myself :-)
The midwives were on their way.
And so was Leilani (who takes care of our girls during the day) and I decided it was time to come out of my trance for the final stage.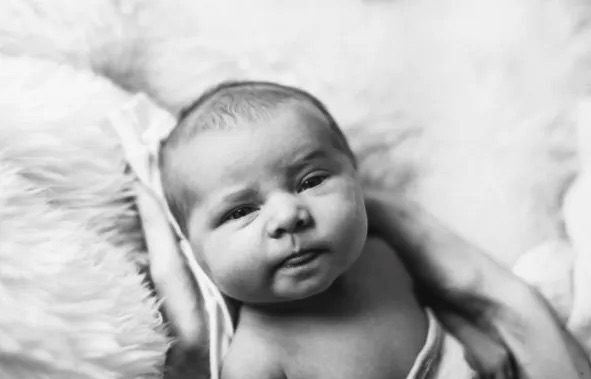 photo by Chelsea Klette
In the living room, Keith spread out a big horse blanket that I'd bought when I was 11 – little did I know I'd birth my children on there! – and I squatted down.
I'd already started to feel the transition into lower contractions.
My body was getting ready to push.
That's when the midwives arrived and set themselves up.
Because I'd asked them to "hockey coach me" through the pushing stage, to minimize the risk of tearing, and because of the warm compresses they used to increase blood flow down there…
… Isa came out in a couple of strong, push-contractions.
One to break the water.
One to birth the head.
One to expel the rest of her tiny-huge body.
At 23:33 she entered this world – our Valentine's baby.
I placed Isa on my chest.
The placenta followed immediately.
And the whole team high-fived when we discovered I wasn't torn to pieces by this almost 10-pound girl who was born within an hour and a half.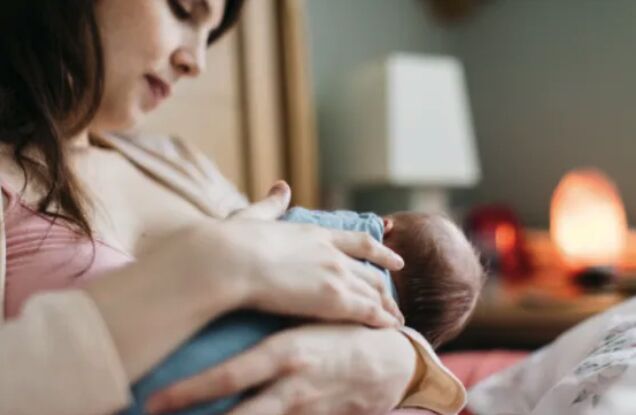 photo by Chelsea Klette
Ava joined us right after (the pics are priceless), and Uma "discovered" the baby the next morning when she came to our bed.
She keeps repeating: "And then the baby was BORN, and it wasn't a BOY?!" (while looking utterly puzzled).
What it feels like to have 3 children?
<h3DEEPLY RICH.
And, when I last looked in the mirror, I caught a glimpse of Susan Sarandon (Little Women!).
May they all be blessed.
May all children be blessed.

And may all of us who parent, whether you've physically birthed children, or feel called to be an elder in a way that's different but in no way less than, be blessed as well.