I've made millions of dollars generating premium leads with organic marketing on social media.
And I've broken my strategy down in 3 simple steps.
You and your team can implement it today.
Are you ready to sell out your flagship, higher price point programs, and private offers?
This premium leads strategy only requires 3 steps:
> Call in premium leads (by being on the right podcasts for example)
> Engaging them with your content (more on that in a sec)
> Getting them to book that call (this is where calls to action come in)
What I'm about to show you, will only work if your messaging speaks to the kind of people who invest bigger amounts of money. If you're not sure if it does (or you're in a moment of up-leveling), check out this post
Here's the 3 part premium leads strategy I use to create multiple 6-figure cash months:
Picture this.
A triangle with the words, consistency, personality, and credibility at the corners.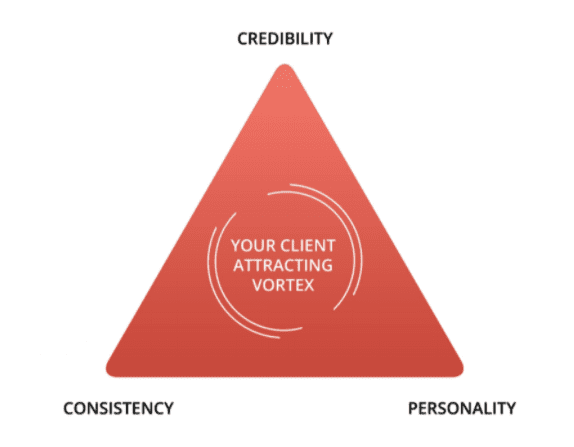 Each point represents a different ingredient in the magical "know, like and trust" trifecta of selling. Below, you'll find a description on how to infuse each ingredient in your content, so you see wild amounts of healthy cash flow rushing into your accounts as well.
Step #1: Premium Lead Generation Requires Consistency
Purpose: add the "know factor" (showing up consistently gives people the opportunity to get to know you).

Example: To illustrate the massive momentum you can build through consistency, my 2019 launch brought in $350,000. My spring 2020 launch brought in $650,000+. The difference? Sending out 3 emails/week.


How to be consistent:
Choose one platform (at first), and show up consistently, as in:


* A bi-weekly email to your list
* Daily IG/FB Lives

* Monthly (Virtual) Gathering/Circle

Once you see it "clicking" and are booking sales calls or even closing deals directly in DM's on social media, you can add other platforms to the mix, and choose your rhythm of showing up

Step #2: Personality is Key to Attract Premium Leads

Purpose: add the "like" factor (showing up with personality will make people fall in love with you and what you stand for).

Example: one of my clients doubled the engagement in her FB group, resulting in a sold-out high-ticket launch ($100,000+) by showing up consistently with content that lets people in on certain parts of her non-business life.
How to show up with personality:
* Picture yourself as a tabloid/women's magazine (what's your brand voice?)

* Don't just talk about your craft, talk about things you care about

* Pretend you have a fashion/make-up/fitness/gardening/relationship column

* Unapologetically show up as WHO YOU ARE (repelling some folks is OK)

* Tell stories

* Make jokes

* Add GIFs
Step #3: Credibility is a Big part of Premium Lead Gen
Purpose: add the "trust" factor (people feel they can trust you with their issues and feel comfortable sending you hefty down payments).
Example: I drip out a consistent flow of credibility-boosting content, and by the time I launch, potential clients are already convinced.
Share your credibility through a:


* Client success story
* Extensive, in-depth case study
* Screenshot (of a Voxer message, a DM/PM)
* Feature in a (note-worthy) publication
* Pic of you with other influencers

Going through this list, what can you do better?
Be more consistent?
Share more personality-infused stories?
Add more credibility-building elements so they know they can trust you?
XO,
Merel
© 2022 Merel Kriegsman Media. For permission to reproduce or repost this post, email team@merelkriegsman.com